Featuring the execution of successfully completed past projects.
Take a look...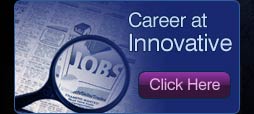 Corporate Info
---
Profile
Innovative Pre Press & Print Pvt. Ltd. has been in the Printing field from past 5 years and we have earned the trust of some of the top advertising agencies & corporate houses in India with our quality, timeliness and customer-service.

We see ourselves as a part of our customer's team, and add value in various capacities. We firmly believe that the most important thing for a customer is the "price-performance" rather than just price. We guide the customer in the selection of paper, the most economical sizes and how to get the performance for the price.

We are a one-stop service provider with Designing, Prepress, Printing and Finishing/Bindery setup. we have the capacity and the redundancy built into the system to handle your largest jobs with the quickest turn-around time. A fully digital prepress department with Digital Proofing Machine, as well as a full-service bindery add to the quality, speed and efficiency.
Quality Policy
We at Innovative will spare no effort to ensure complete customer satisfaction by:
Partnering with our customers to provide Cost-effective, timely & world-class printing.
Seeking active involvement & participation of employees at all levels.
Actively investigating & investing in Technology to continually improve Quality & Productivity.
Treating vendors as partners in progress.
Ensuring complete fairness in all transactions & compliance to all legal & statutory requirements.
"The hallmark of INNOVATIVE is Quality with Service"
Team & People
The most important component of any workflow are the people. Innovative Pre Press & Print Pvt. Ltd has excellent workforce of highly motivated and technically qualified team and adept at handling state-of-the-art equipment.
Mission
To achieve our goal in an environment of fairness and honesty towards our clients, employees, vendors and society.

Vision
To surpass customer expectation consistently.

Office Locations
We have 3 office locations in Delhi.